I've been studying the Bible, (mostly the New Testament) for several years now. Over the years I've used various commentaries and other sources to help me in apologetics and general scriptural study but none has been quite as useful as the Haydock Douay-Rheims Catholic Bible. There is extensive commentary for nearly every verse in the Bible!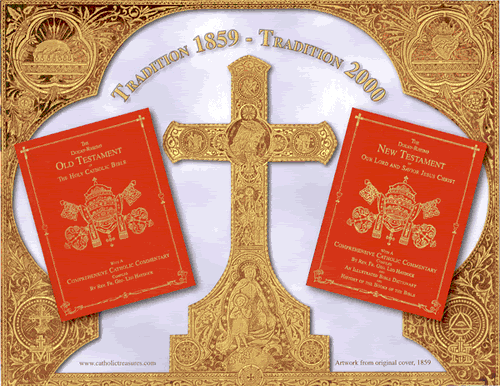 Catholic Treasures says of its Haydock Bible: "The crown jewel of all publications by Catholic Treasures is the magnificent reprint, photographically reproduced from a very large old Bible first printed in 1884. The commentary covers from one-third to one-half of the space of every page and was selected by the highly respected Father George Leo Haydock. Throughout the 1800's the best known Douay-Rheims Bibles were known as "Haydock's Bibles" because of the powerful footnotes or commentary that was selected by Fr. Haydock to help the faithful to understand Scripture according to the mind of the Church. The Haydock commentary in this edition was taken from a Bible originally printed in 1812 and includes the Saints who were given the title "Father of the Church" because of their outstanding writings explaining Holy Scripture. Fr. Haydock also included notes from other eminent scholars which soundly refute Protestant errors on various passages from the Bible which give important historical explanations to help every reader to better understand God's Holy Word. This edition of the Douay-Rheims Old and New Testaments contains a Bible Dictionary which is Illustrated."
There is currently available a flexible leatherbound edition on sale for $99. But since the Bible is so large, handling it with the flexible cover can be rather cumbersome. But Catholic Treasures is putting out a leather hardback edition. It is on sale (pre-publication) for $150. After publication it will cost $195. But it is so worth it! Never have I come across so valuable a tool for helping me to understand sacred Scripture according to the mind of the Church!
You can order the hardback Haydock Bible (and read more about it) here:
http://www.catholictreasures.com/cartdescrip/11341.html
So, um, just so everyone knows, I'm not affiliated with the company in any way. I just really think it's an awesome Bible.
x-posted to several catholic communities.
Btw, if this sort of post is not permitted here, please let me know and I will delete it.